Welcome to Earth Class...Welcome to Earth Class...
Welcome to Reception and Little Stars!
We are a Foundation Stage Unit, with both Reception and Pre-school in our setting. Our Little Stars Pre-school children are in the setting during the mornings, until 12. They have the option to stay for Lunch Club on a Tuesday, Wednesday and Thursday until 1 o'clock.
Our Reception children are in full-time school and start at 08:50 in the morning until 03:15.
We have three members of staff who work in our Early Years Unit; Miss Mason the class teacher, Miss Gipson the Pre-school Practitioner, Mrs Pitts and Mrs McBride the classroom Teaching Assistants.
Welcome to Earth Class Booklet - Here is a booklet outlining the day to day running of Earth Class and any important information that you may need to know throughout the year. Earth Class children have been sent home with a copy of this booklet, alongside a copy of our visual timetable.
Curriculum Overview - Here is the overview of what we will be learning in Earth Class. We are a school that mixed year group classes and therefore follow a two year rolling plan.
News from Earth!
Check out some of the lovely activities that we have been undertaking in Earth Class!
Wednesday 29th March 2017 - Dazzling Daffodils
Today we have been preparing some paper flowers to hold in our Easter church service on Friday. We took the daffodils that we have grown ourselves and bought them in the classroom to give us some ideas. We worked together as a class, using cup cake cases and straw to decorate and design our own flowers. We found this activity really calming and even had a practice of our Easter song as we were making!
Friday 24th March 2017 - Red Nose Day!
Today it is Red Nose Day! The children all came dressed up in red to raise money for charity. We also had a cake sale at the end of the day with the cakes the children had made and brought in from home. We had a competition in each class with who can wear the most red! Our winner was Sebastian who was even wearing red socks!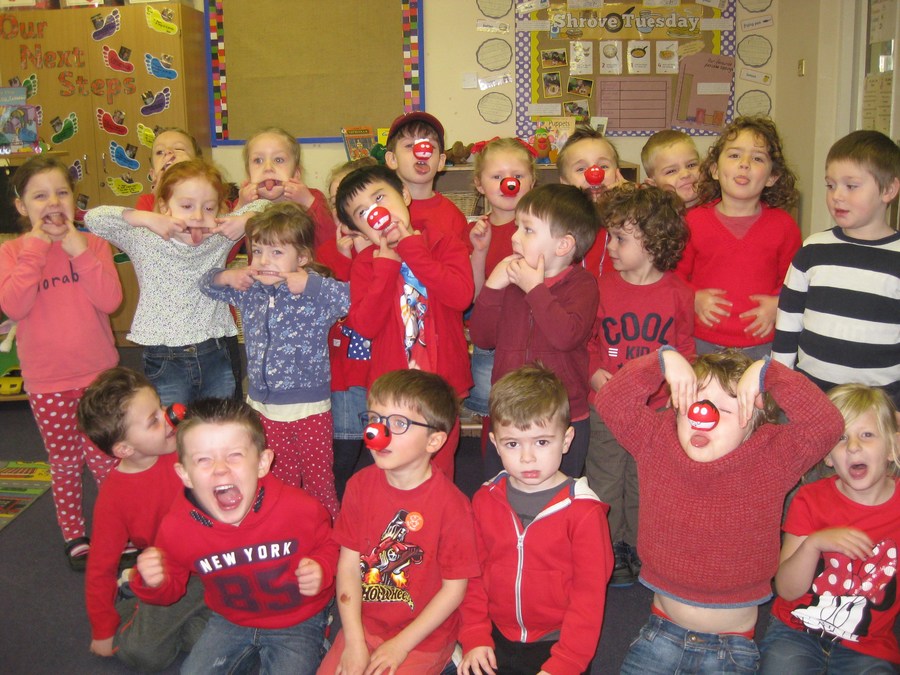 Thursday 23rd March 2017 - Welly Walk!
Today we went on a lonnnngggg welly walk across the fields and around Ridgewell. Earth class enjoyed leading the rest of the school in the welly walk and we made it back to school first! Great walking Earth class!
Friday 17th March 2017 - Our Trip to Mountfichet Castle
Today we embarked on our first ever class trip! We were really excited as we boarded the bus and had lots of fun singing songs as we were travelling. When we arrived at the castle we had an explore of what life may have been like all those years ago. We tried on some different metal helmets and chainmail, we practiced our sword fighting skills and mounted a horse! After lunch we trekked up to the Toy Museum and looked at lots of old and new toys as part of our topic. We enjoyed talking about how some of the toys were different to the toys we have now. After a quick explore of the dinosaurs, we boarded the bus for a much quieter, sleepier journey home!
Tuesday 14th March 2017 - Birds Nests
Today we were lucky enough to see a real life bird's nest that one of the children bought into the classroom. We talked about all the different materials the nest was made from and why the birds may have used these materials. We then decided to go up into the Forest to have a go at making our own bird's nests. We worked in teams of 3 or 4 children, sharing ideas about how to create our nests and what to use, as well as where we should make our nests so that the birds were kept safe. We discovered that moss was the best thing for keeping the bird's warm. Here are some pictures of our creations.
Friday 3rd February 2017 - Bones, Bones, Bones
After our enthusiasm about bones this week, we decided to make some of our own bones using a salt dough recipe. The children were very inventive in their creation of the bones and chose to use some different tools and techniques to create the effects they wanted.
Thursday 2nd February 2017 - Steve the Skeleton
We have been looking at dinosaurs and how we discovered dinosaurs from millions of years ago by digging up fossils of bones. The class were then really interested in their own bones so we invited Steve the Skeleton in to help us learn about the bones in our bodies. We talked about the different bones and labelled Steve. We used our phonic knowledge to sound out the words to write our own individual labels. After, we labelled Steve to see if we could remember where the bones were in our bodies. In our choosing time later in the week we had the opportunity to label a picture of Steve and create our own skeleton using art straws.
Monday 30th January 2017 - Weighing Cakes!
This week in Mathematics we have been looking at weight and measurement. We have been thinking about balance scales and learnt how to measure is something is heavier, lighter or the same. Today we used our knowledge of balance scales to make a cake. We had to weigh out the ingredients so that they weighed the same as the eggs; the scales had to be balanced. Here are some pictures of us weighing and making the cakes!
Wednesday 19th October 2016 - Harvest Festival
Today we have participated in the Harvest Festival with the whole school in the church. This week we have enjoyed learning about vegetables and preparing vegetable hats for the service. We then danced and sang the Singing Vegetables song in front of the school and our parents. Here is a group picture of us taken just before the church service.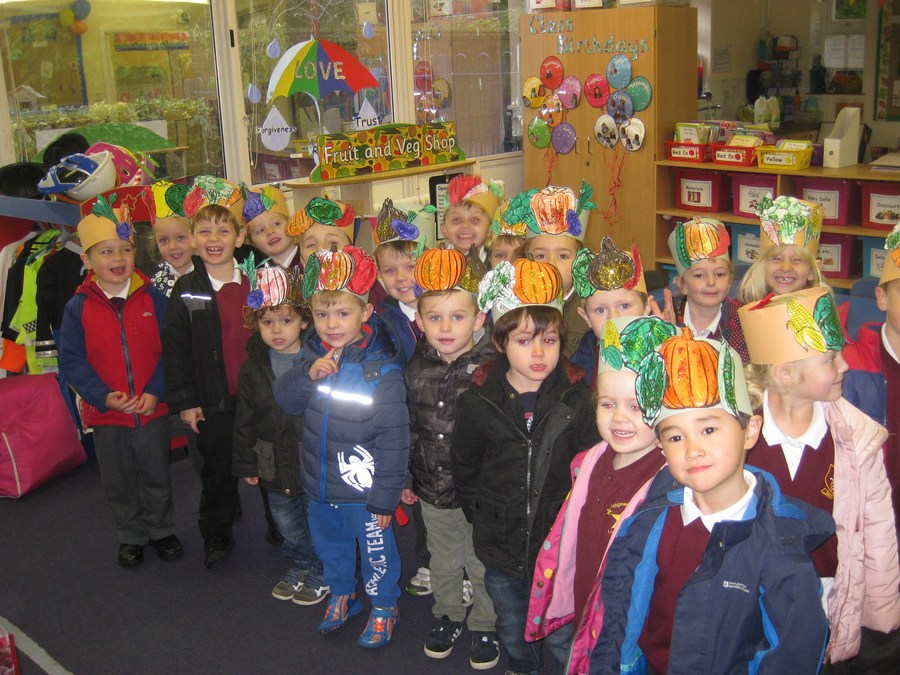 Tuesday 18th October 2016 - Compost!
Today we were pleased to see the arrival of our new compost bin for our outdoor area! This means that in the Autumn months we can clear all the leaves from our outdoor area and turn them into compost for our gardening sessions! We can also dispose of the waste from our daily snack in an environmentally friendly way! We were really exited by the arrival of the compost bin and lots of volunteers were keen to start picking up the leaves, using the tools from our outdoor area. At break time even other, older members of the school wanted to help.
Thursday 13th October 2016 - Scarecrow Building!
To further explore our understanding of the Harvest Festival we looked at scarecrows and how they are used to stop the birds eating all the wonderful food we have grown and peck at all the seeds planted. We then worked in two teams to build our own scarecrows for the allotment. It was great fun on a very windy day! We enjoyed chasing the straw around in the wind.
Thursday 13th October 2016 - Food Tasting!
As part of our topic, looking at the Harvest Festival, we have been reading the story Oliver's Vegetables. After discussing the vegetables grown in Grandpa's vegetable patch all week, it was finally time to taste some. We tried cooked rhubarb, cabbage, potatoes and raw carrots, spinach, beetroot and sugar snap peas! We were all extremely good and most of us tried all of the vegetables. We then discussed our favourites and the ones we were not so keen on.
Friday 23rd September 2016 - Tulips!
Today we were really lucky to be visited by Mrs A from the Gardening Society again! Today she brought with her some tulip bulbs for the Little Stars to plant and look after. We worked as a team to help plant the tulip bulbs ready for the Spring. Mrs A was also kind enough to bring along some of the wonderful fruit and vegetables she has grown in her own garden so we could see some of the things that we could grow in school and at home!
Friday 16th September 2016 - Daffodils!
Today we were really lucky to be visited by Mrs A from the Ridgewell Gardening Society in our Outdoor Active Learning session! Mrs A and the Gardening Society have very kindly donated their time and resources to help our Early Years children develop their understanding of growth and changes over time. Today we learnt how to plant some daffodils into our very own pots. We learnt some big words like compost and bulbs! We are going to learn how to care for our plants and hopefully enter them into the children's section of the Gardening competition in the Spring! We want to say a big thank you to Mrs A and the Gardening Society!
Friday 16th September 2016 - The Blue Balloon
Today we read the story of The Blue Balloon by Mick Inkpen. We talked about all the different things that the less than ordinary balloon could do! We then experimented with our own Blue Balloon, thinking about what happened when we let the air out, the different noises it made and how it could magically stick to the ceiling. After, we had a go at designing our own magic balloons and imagining all the wonderful things that could do! Miss Mason gave us our own balloon's to take home so we could experiment with them even further!
Monday 12th September 2016 - Welly Walk!
Today we had our first Welliy Walk across the fields of Ridgewell. We looked at all the wonderful things around us and listened to the sounds we could hear. We could really hear the crickets and grasshoppers making a noise so we just had to jump across the field pretending to be them! A lovely walk on a lovely day!
Friday 9th September 2016 - First Forest School Session!
Today we had our first Forest School Session up in the woods! We talked about our Forest School Rules, hunted for leaves and made faces out of the leaves we found. It was a great morning and everyone had lots of fun!