Healthy Schools
We are really pleased to have been awarded with the Healthy Schools Status!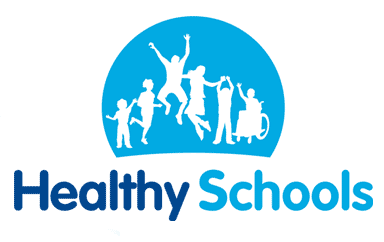 We try to promote health and wellbeing for all of our children and staff.
Our PSHE curriculum, after school clubs, school lunches, Forest School and PE lessons all contribute to the health of your child.
We will continue to make Healthy Schools a priority for 2017-18, including the addition of three themed multi-cultural days in which
the whole school will take part in a variety of activities. We will also be introducing three seasonal whole school country walks.
__________________________________________________________________________________________
PSHE AFTERNOON - 14th December 2017
The whole school had an afternoon of PSHE lessons including road safety, healthy living, internet safety and first aid.
Earth and Mars class looked at road safety and healthy living. The afternoon consisted of lots of different activities such as playing bingo, board games and role play. The children looked at zebra and pelican crossings and practised crossing the road in the playground. They also learned how to stay healthy by exercising and looking at healthy food options.
Jupiter and Saturn looked at internet safety and first aid. They learnt how to deal with burns, choking, bleeding - including nose bleeds - and how to keep safe when using the internet.
Well done to all the children, they showed great interest and took part in all lessons. Have a look at the below pictures to see what they got up to.
PLAYLEADER TRAINING
Congratulations to our Year 6 pupils who have completed their Playleader Training Course. The playleaders will be around to help
on the playground at breaks and lunchtimes, organising play equipment and games.
AUTUMN WHOLE SCHOOL COUNTRY WALK
We have spent a lovely morning as a whole school on our first of this years seasonal country walks. We enjoyed a 2 mile walk
around our local area. Everybody got their wellies on and off we went to appreciate the beautiful Autumn weather and our lovely
surroundings. Our new reception children walked the whole two miles and our pre-school unit joined us for the first mile.
Fresh air and physical activity that everyone can enjoy!
HEALTHY SCHOOLS AWARDS CEREMONY
We were delighted to be invited to the Essex Healthy Schools Awards Ceremony which we attended with two of our Year 4 Healthy
Schools ambassadors. We went to The Central Baptist Church in Chelmsford for the ceremony which was also attended by local
councillors, the Mayor and Mayoress and Olympic gymnast Brinn Bevan who gave a very inspirational speech and showed us his
medals! We had a great day and shall continue our commitment to healthier living and learning at school.