Cultural Days
To support the teaching of the Foundation subjects within the curriculum we have organised some cultural days; providing the children with an opportunity to experience life in different countries..
RUSSIA
First thing this morning we had a presentation about Russia. We started off listing some facts that we already knew about the country. After that, we discussed some famous Russian people, watching a clip of The Nutcracker and some traditional Russian dancing. We then moved into our groups to take part in some mixed aged learning.
Russia is famous for using a lot of cabbage and pickling in their food...but we decided to try something a little more...tasty! Miss Mason found a recipe for Pryaniki; Russian honey bread. This recipe is always served during festivals like Christmas and birthdays. The children loved making this recipe and thoroughly enjoyed eating it! We decided that it tasted like gingerbread. Below is the recipe if you fancy trying them at home! If you do please send us in some pictures of your recipe.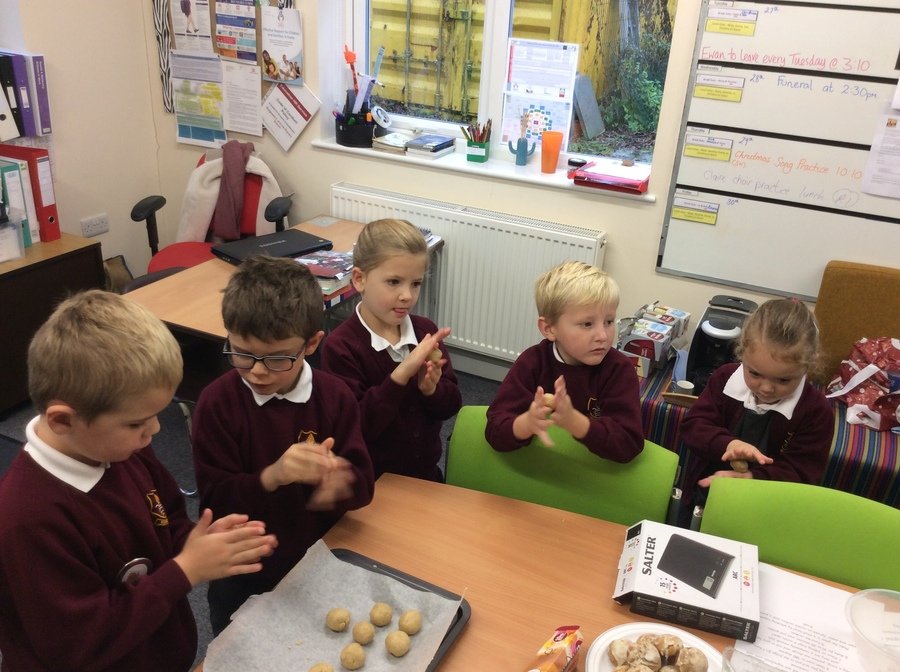 Today with Mr Bettesworth we learnt about the Russian Space program. We discovered that Russia had many 'Firsts' in space; including sending the first dog into space.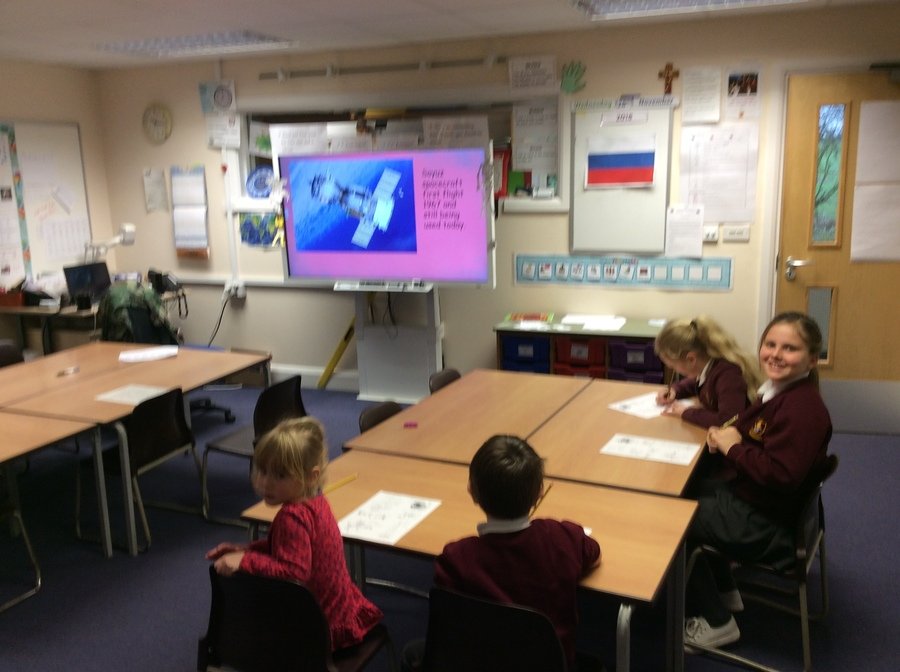 Mrs Lowe introduced us to the music of The Nutcracker, composed by the famous musician Tchaikovsky. We considered the structure of the music... ABA. Using ribbons, we created a dance composition to represent this structure.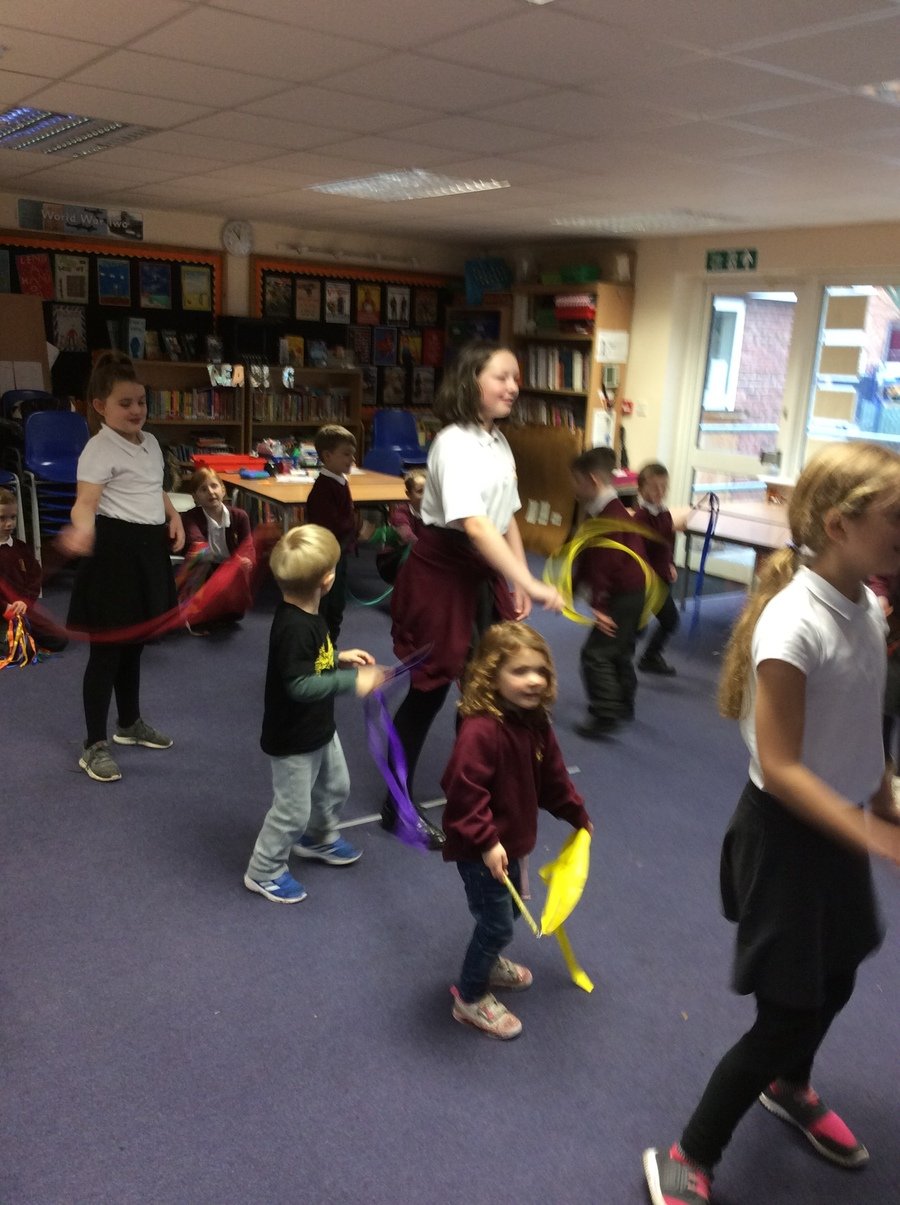 Today Mrs Muggeridge introduced us to the sport of Hand Ball. This is the 2nd most popular sport in Russia. They have won gold medals in the Olympics for this sport. It is the first time we have played this game in school, we had to adapt the rules slightly to incorporate both Reception and Year 6 in a mixed ability game. All of us had much fun!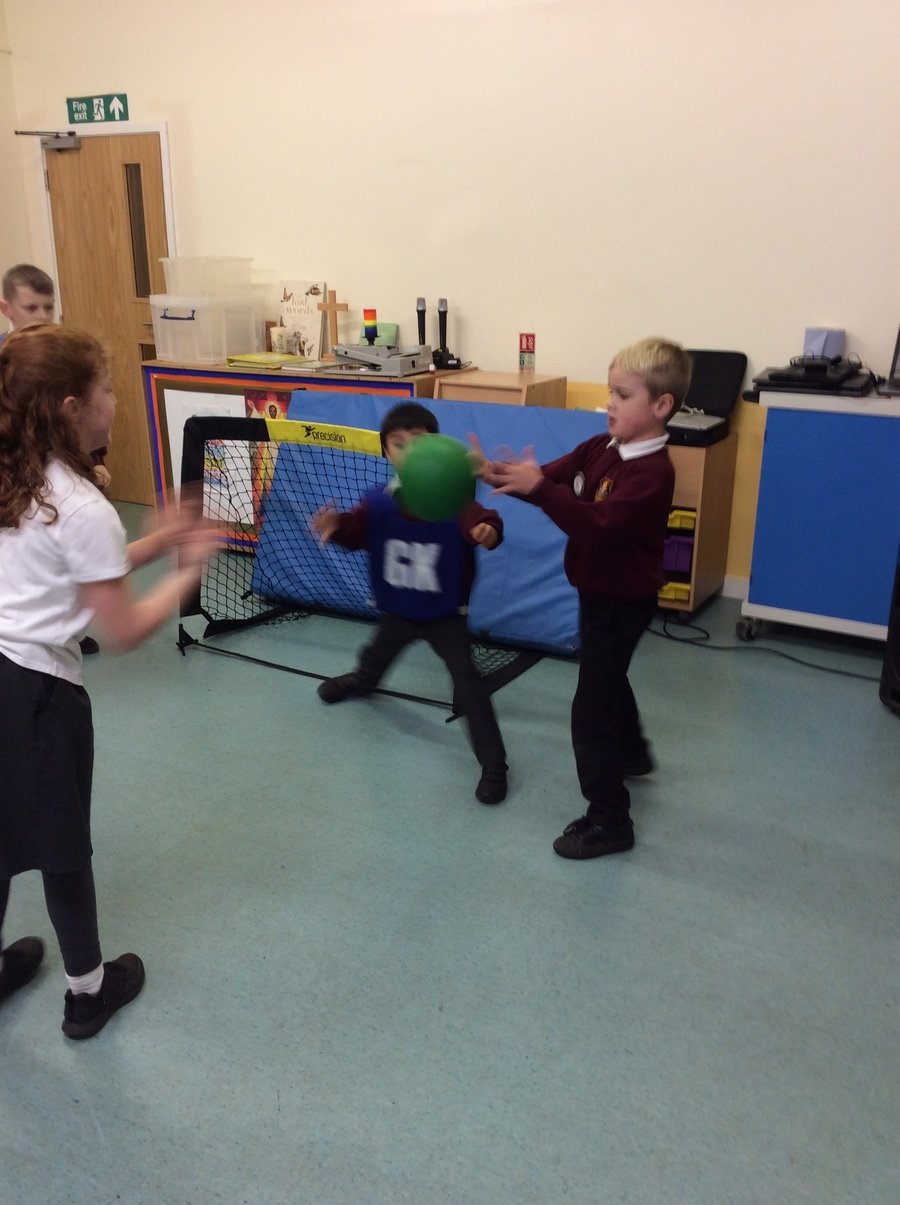 With Mrs Radley we looked at a well known symbol of Russian culture - the Russian nesting dolls. Mrs Radley had bought some into school for us to look at. We then made our own Russian dolls using pencils, glitter and sequins to decorate.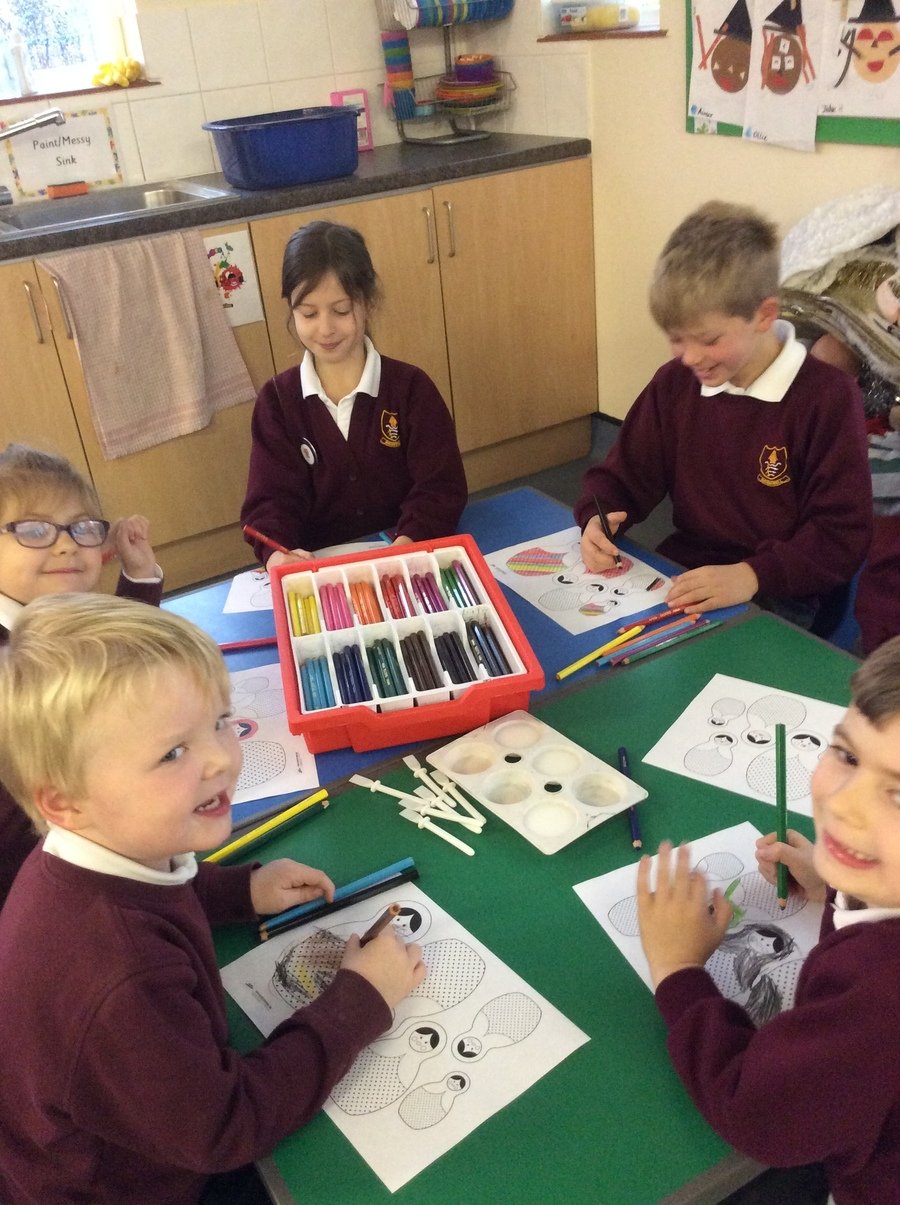 Mr Irvine introduced us to some Russian language today. During this activity we learnt how to say "hello" and introduce ourselves in Russian. Some of us also used the Russian alphabet to work out how to spell our name in Russian. We then walked around the class introducing ourselves and practicing our new language skills.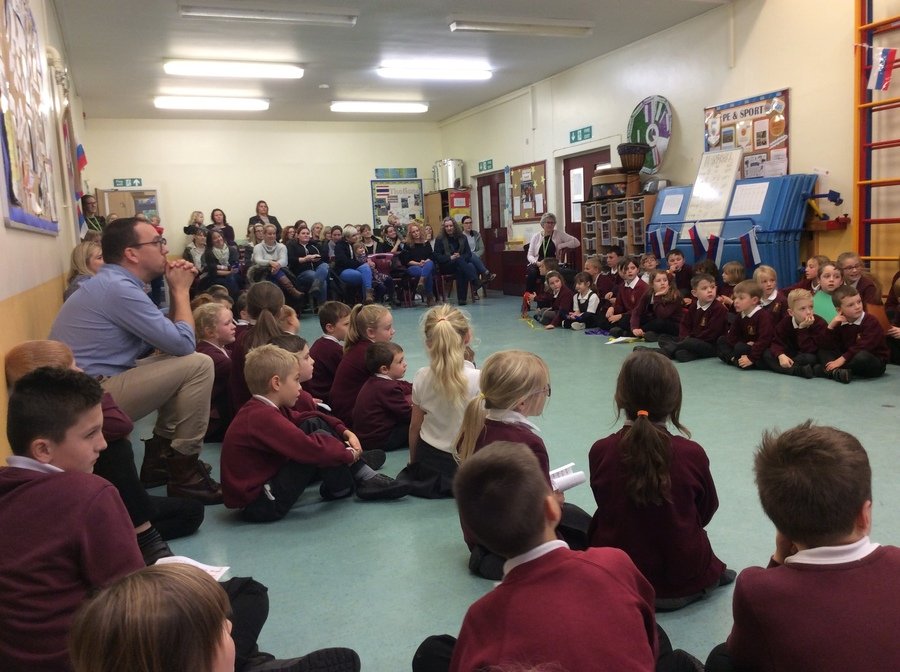 After we had completed our round-robin of activities today we then had a presentation to our parents to share with them all the lovely things we had learnt. They even had a piece of Pryaniki to try.
...We have invited guests in to speak about the focus countries, as well as participating in activities such as cooking, music, dance, language and art. We have split into mixed aged groupings and rotated the activities so that EVERYONE can experience EVERYTHING!...
MEXICO
For our Mexican cultural day we had an assembly where we learnt lots of new facts about the country. We talked about traditional food, famous landmarks and the climate of Mexico! We then moved into our mixed ability groups for our round robin of activities...
For our cooking activity for Mexico Day we looked at some different Mexican recipes and decided to make nachos and salsa. We took some time chopping and assembling the salsa before building our own individual plates of nachos. We also had guacamole and sour cream. We discovered that the three dips were the colours of the Mexican flag. We then took some time to evaluate which was our favourite dip.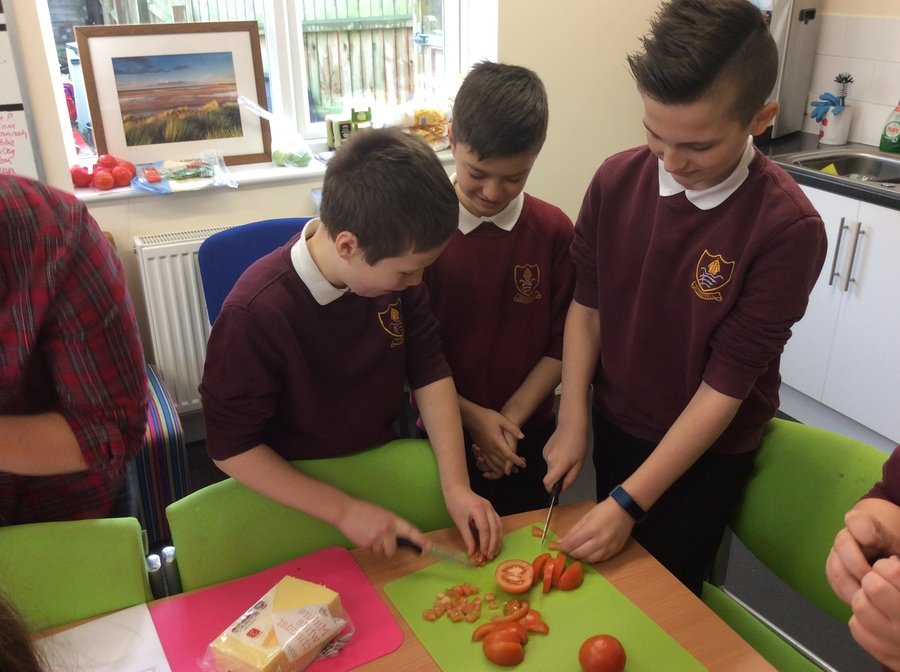 We spent some time using the computers to research facts about Mexico using the internet; including finding out the capital city and currency!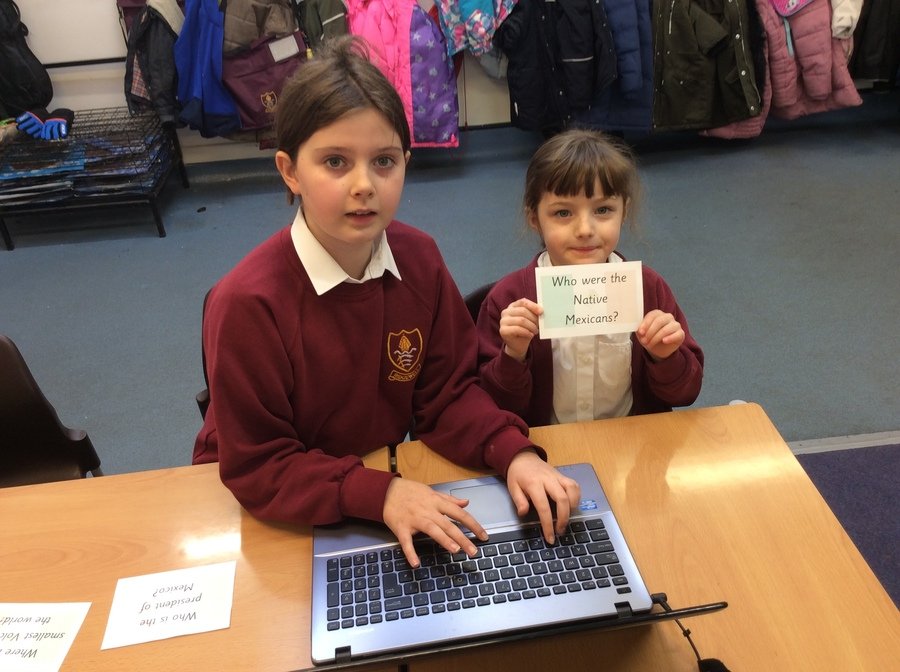 In music with Mrs Lowe, we had a look at the famous Mexican song, La Cucaracha. We listened carefully to the music and had a go at playing the song using some instruments such as drums and maracas. We all really enjoyed singing along to the words and performing it to our parents.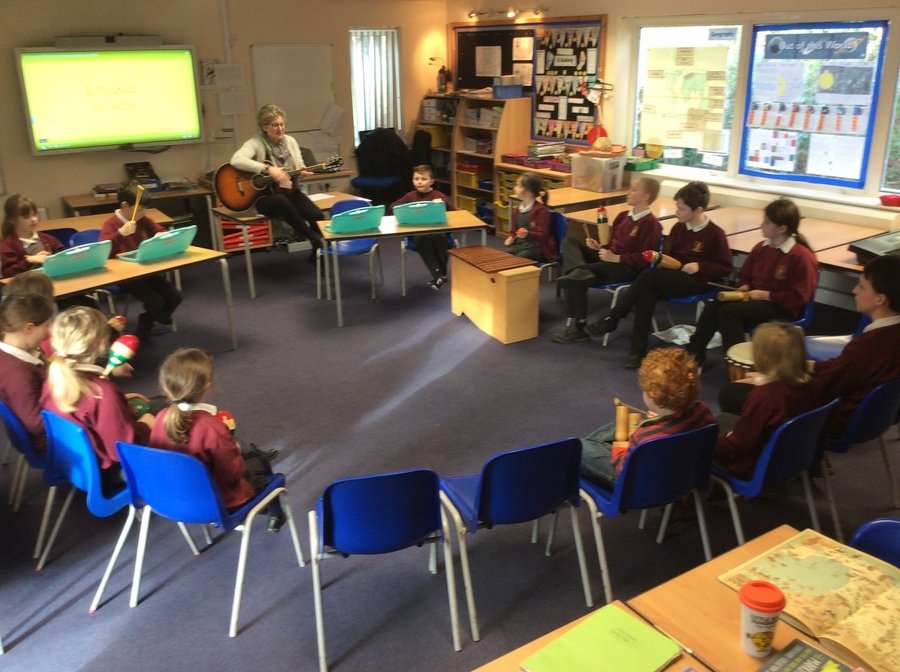 In our PE session with Mrs Muggeridge, we learnt the Mexican Hat dance - the national dance of Mexico. We found out that it is often performed at parties and fiestas.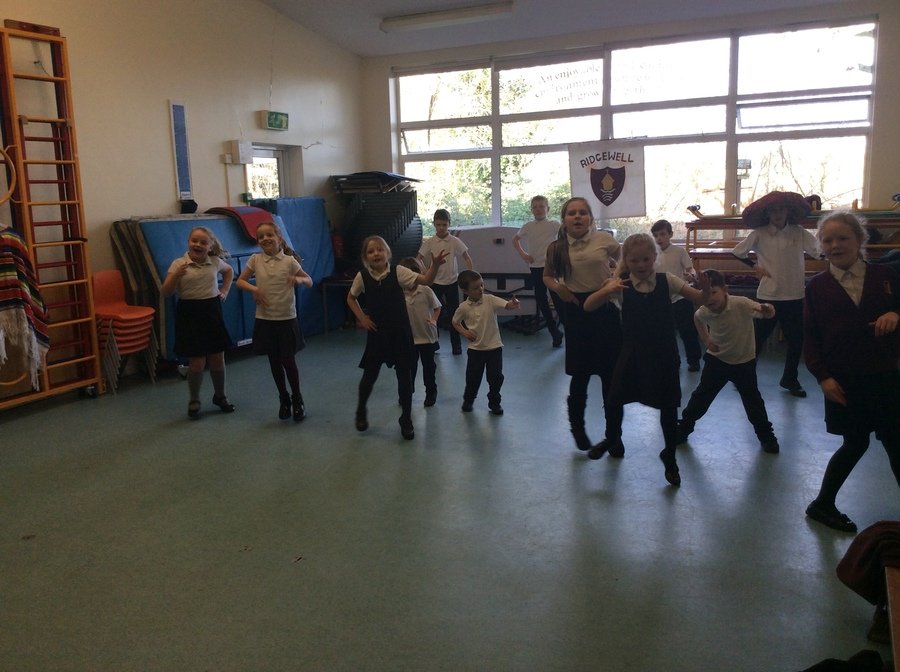 With Mrs Radley we looked at some traditional Mexican icons; the sombrero and the cactus. We talked about how the sombrero is wide-rimmed to create a shadow around our heads and shoulders. We also learnt that the most recognised cactus in Mexico is the Prickly Pear. We made our own sombrero wearing cacti using paint and pom-poms.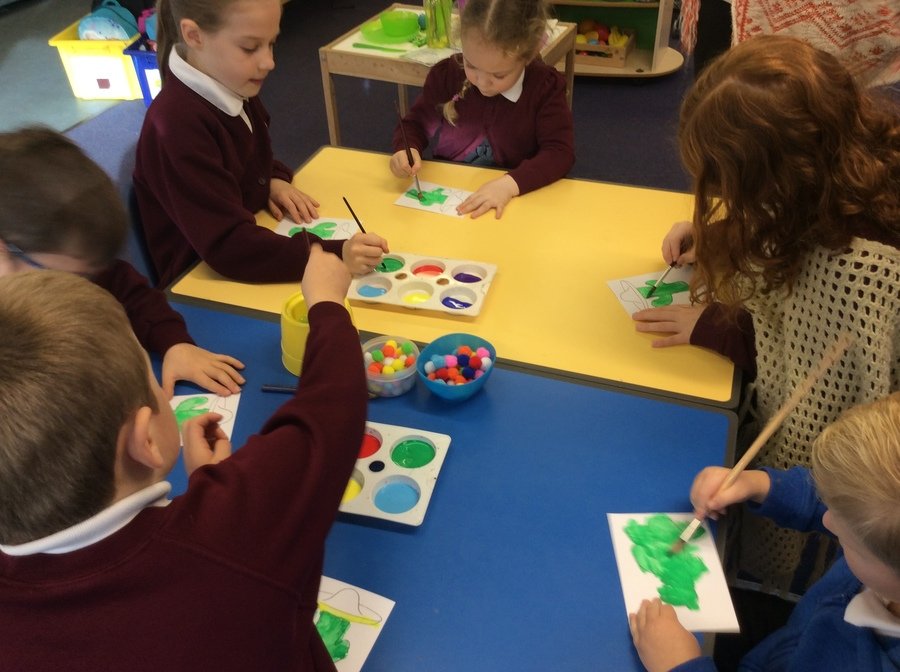 Mrs Bettesworth asked us to think about the Day of the Dead; a Mexican celebration celebrating family members that have passed away. We learnt about alters that the Mexican's create for their family members and how they have lots of symbols of skulls to represent death. We talked about how it is a celebration and colourful to support children in not fearing death. With Mr Bettesworth we designed our own sugar skulls.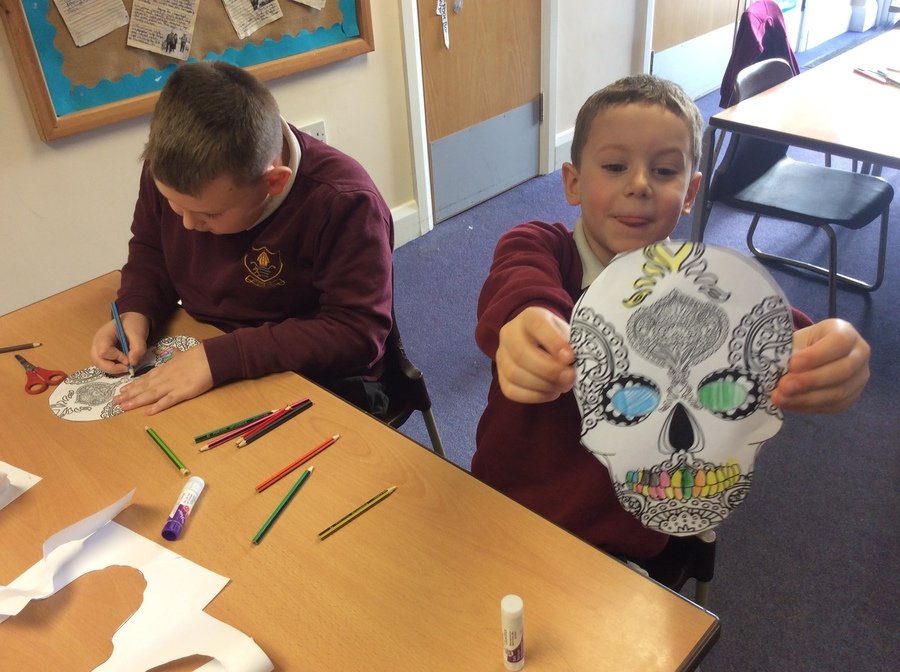 At the end of the day, the last group in each activity shared with the parents what they had been learning about today in a presentation. The children loved sharing their learning with their parents. What an exciting day in Mexico we have had!
Today we were really fortunate as Mrs Clarke in the kitchen decided to cook us some Mexican food for lunch. We had burritos and fajitas with rice, salsa, guacamole and sour cream. It was delicious! Thank you Mrs Clarke!
...After having completed our activities, we have then invited our parents in to share the things we have learnt in an assembly. Here are some of the countries we have visited so far and some of the activities we have completed.
FRANCE
For our cultural day focused on France, we were lucky enough to have our french teacher spend the day with us. Madam presented an assembly where we learnt lots of facts about the traditions of France. We talked about the different areas of the country, the meaning behind their National Anthem and the famous landmarks.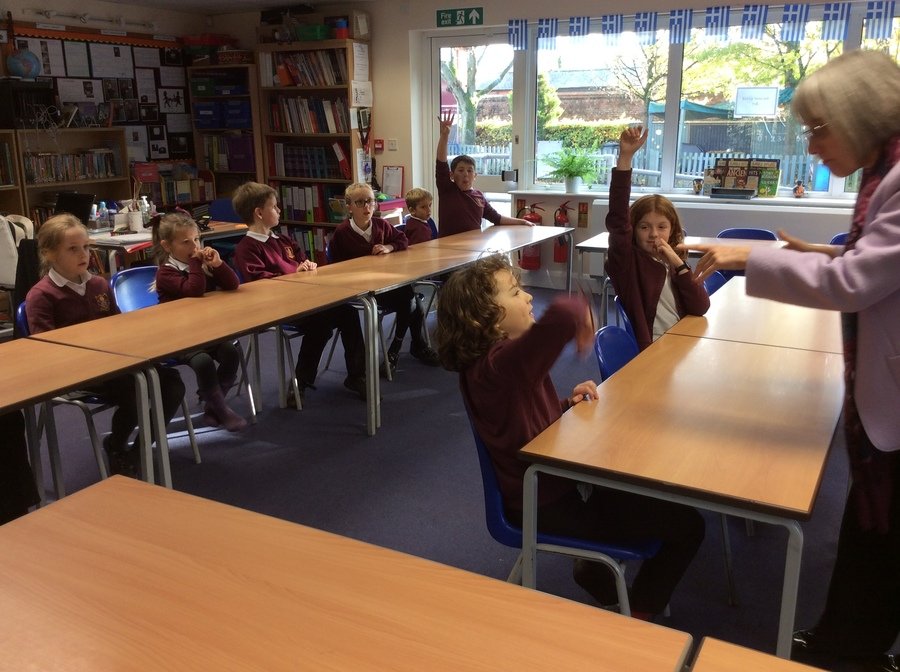 For our cooking activity on this cultural day, we made traditional French Crepes. The children really enjoyed making these but even more loved eating them! They learnt some history behind them, learning crepes had a National Day to celebrate them. We liked that it was really quick and easy to make. Many of the children asked for the recipe which you can find below.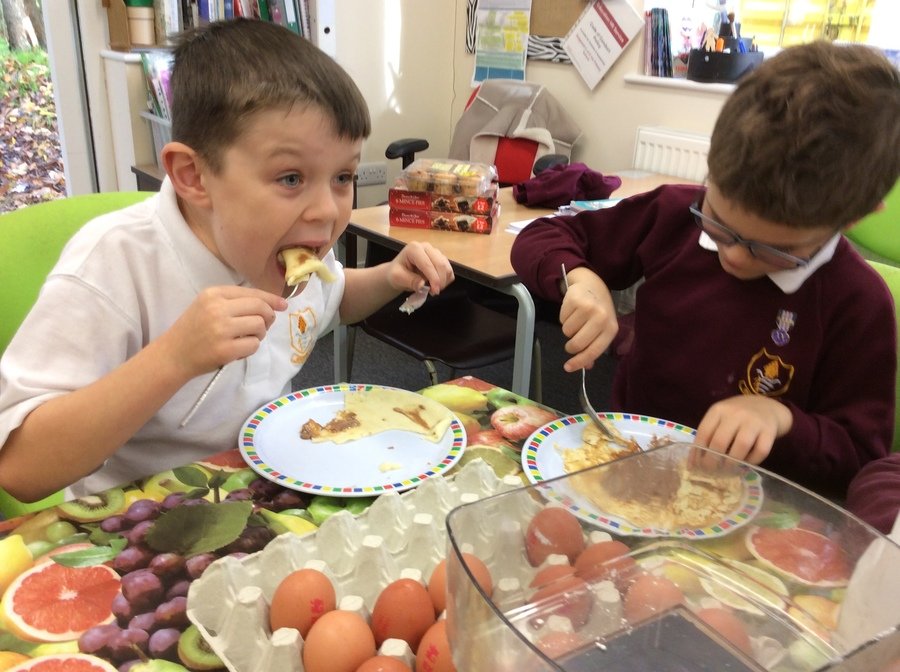 Today during art the children were inspired by Claude Monet and were introduced to the style of impressionism. The children used crayon and water-based paint to create a picture of a Japanese Bridge.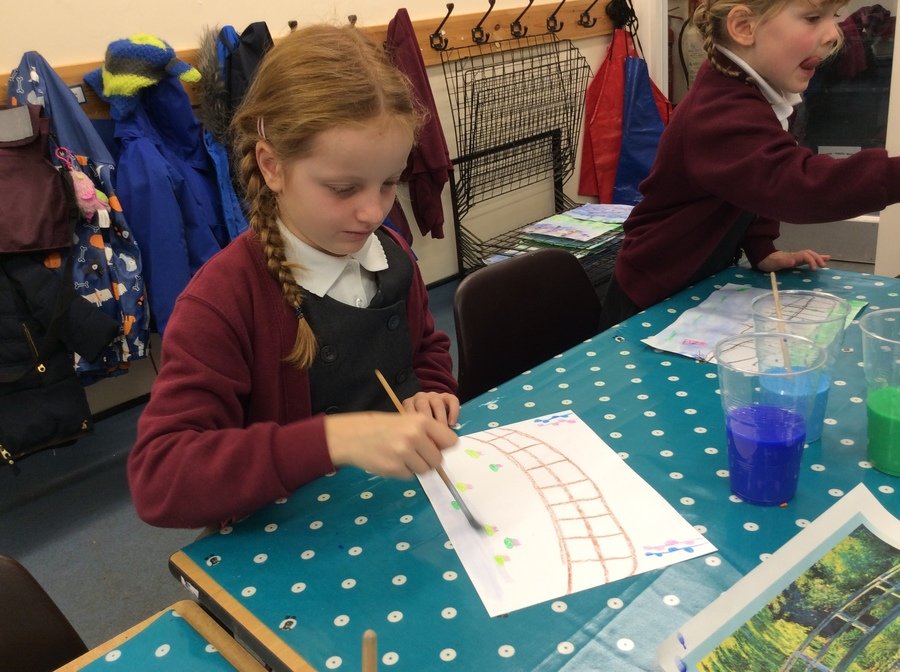 During Music, Miss Moss taught the children how to play Frère Jacques using a range of musical instruments such as: glockenspiels, maracas, drums, tambourine and bongos.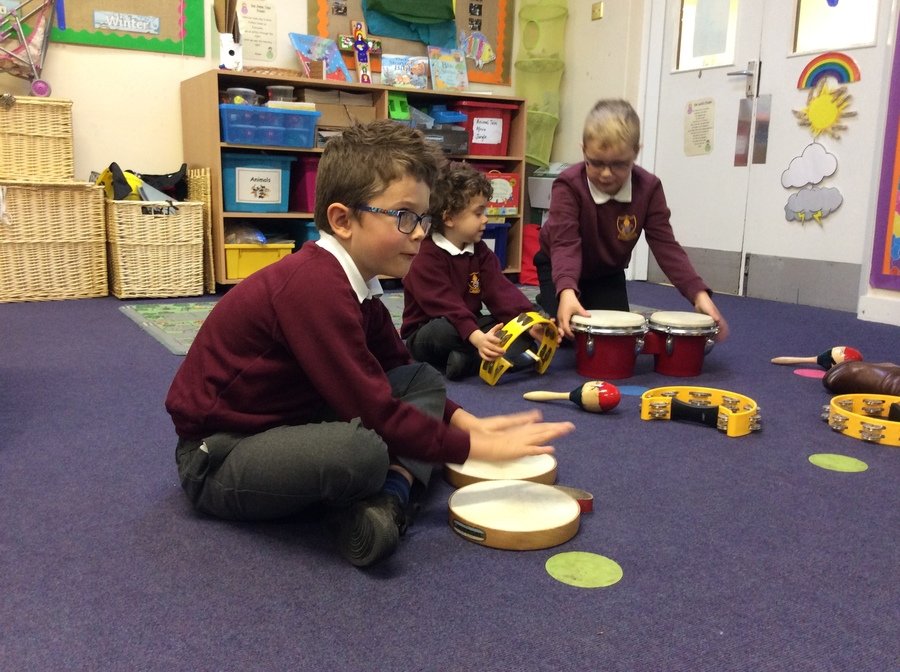 During our Physical session with Mrs Muggeridge everyone mastered the rules of Pètanque which means 'Feet Anchored'. It's a variation of French Boules. In 1907 a gentleman called Jules Lenoir invented this game.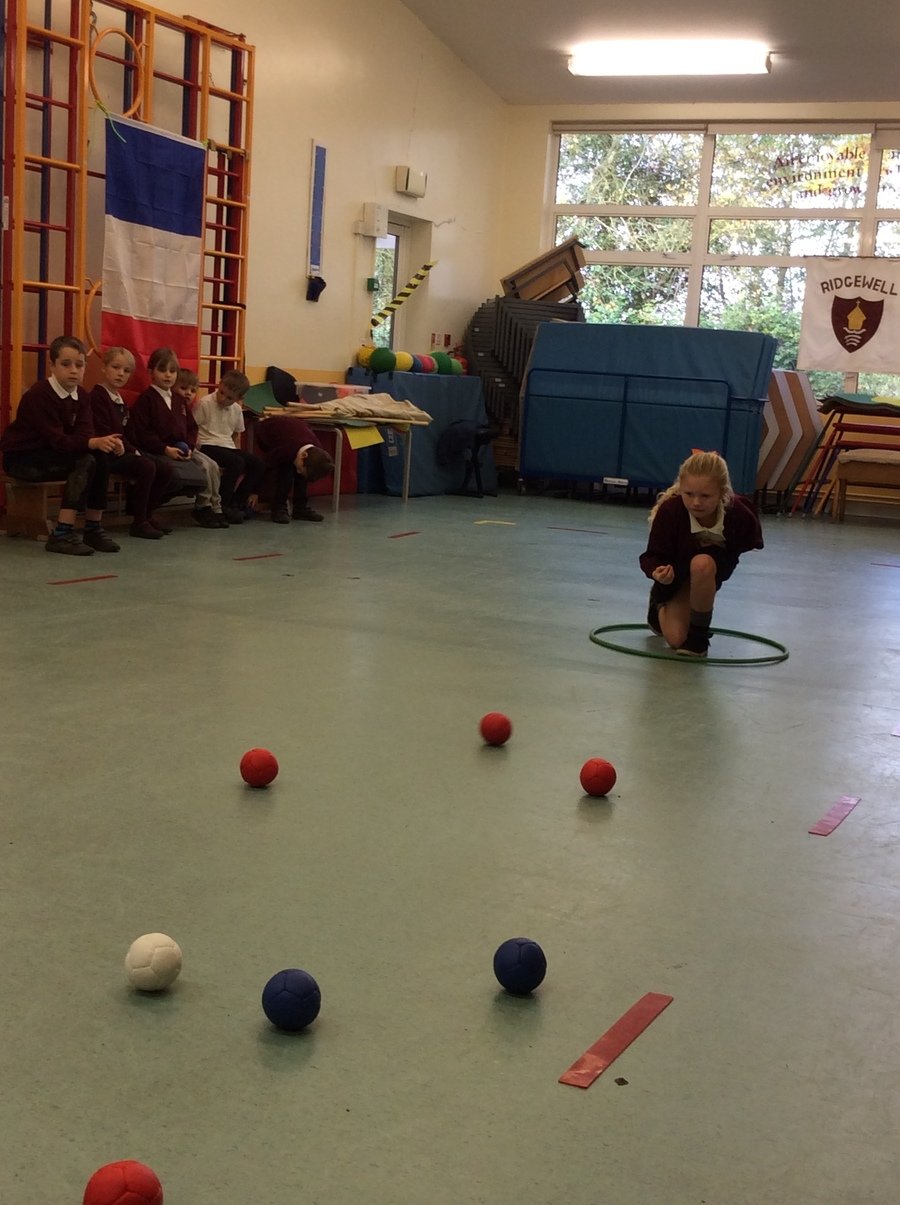 Mr Bettesworth planned an activity looking at the iconic landmark, the Eiffel Tower. They used some different materials to complete their design. Along with constructing a miniature 3-D structure they also learnt some fantastic facts and the history behind this famous tower.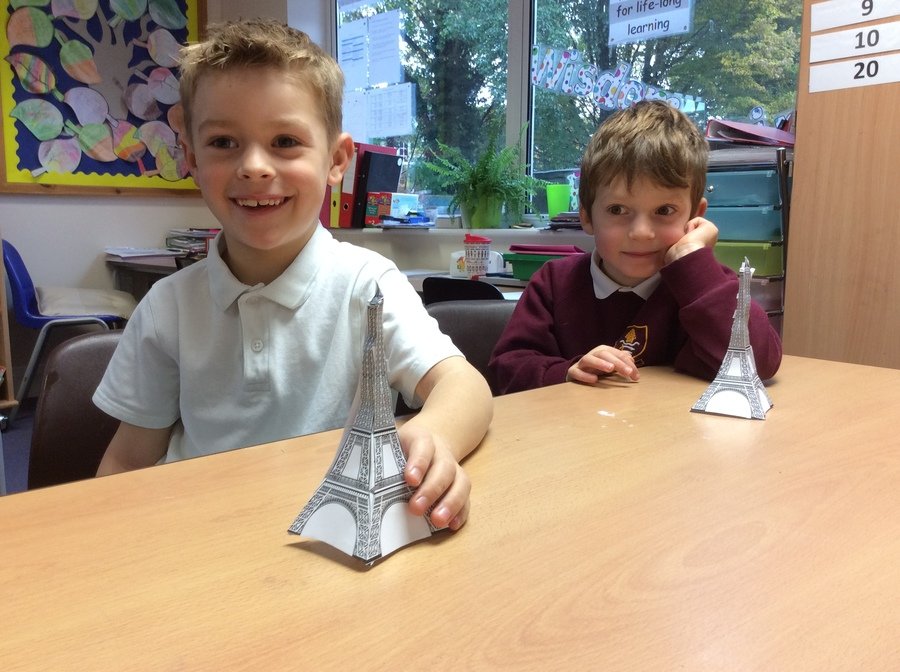 Madam introduced the French language with a very creative Rhyme and Dance. They learnt how to sing and perform a traditional French dance which is typically supported by a violinist.